AutoStar named CarGurus "2017 Top Rated Dealer"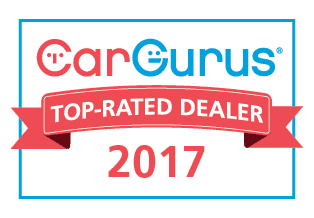 AutoStar Family Dealerships Receives CarGurus' "2017 Top Rated Dealer" Award
for Highest Shopper Ratings
Asheville, NC June 14, 2017 – CarGurus, a leading consumer automotive car shopping website, today announced it has named AutoStar Family Dealerships a "2017 CarGurus Top Rated Dealer." The annual CarGurus Top Rated Dealer awards are presented to a select group of car dealerships that have received the highest average ratings from shoppers who have submitted dealership reviews on the CarGurus platform. CarGurus uses shoppers' dealership ratings as well as comprehensive valuation analytics to help shoppers search their local marketplace and find great car deals from top-rated dealers.
"We are thrilled to recognize AutoStar as a Top Rated Dealer," said Sam Zales, President of Dealer Operations. "Based on CarGurus' shoppers' ratings, it is clear that the team at AutoStar Family Dealerships is delivering a superior car shopping experience for their customers, and we applaud their high standards for excellence."
"Providing exceptional customer service is a priority for us, and we are proud to be recognized as a Top Rated Dealer," said Van Olp, Owner of AutoStar Family Dealerships. "Our reputation is very important to us, especially in Western North Carolina, where word of mouth travels fast.  We are happy to have earned trust in the community as a fair and honest dealership."
CarGurus invites shoppers to review and rate dealerships with whom they have interacted during their car shopping experience. Dealer ratings and reviews are visible to the public on the site, and they are also factored in the algorithm that CarGurus uses to rank search results for shoppers.  According to recent CarGurus poll, 78% of shoppers say they will not buy a car from a dealership without first seeking out reviews of that dealer from other shoppers.[1]
About AutoStar Family Dealerships
AutoStar has our region's best variety of pre-owned cars, trucks, vans and SUVs. AutoStar Family Dealerships currently carries the following vehicle makes and is adding new brands to the list frequently:
Acura, Audi, BMW, Buick, Chevrolet, Chrysler, Dodge, Ford, GMC, Honda, Hyundai, Jeep, Kia, Lexus, Lincoln, Mazda, Mercedes-Benz, MINI, Mitsubishi, Nissan, Pontiac, Porsche, RAM, Saturn, Scion, Subaru, Suzuki, Toyota, Volkswagen.
Rest assured that all of our pre-owned vehicles undergo the AutoStar Certified Pre-Owned "Road to Certification" process. This is a very thorough and detailed procedure involving no less than 100 points. Our reconditioning process results in some of the finest and highest- quality pre-owned cars, trucks, vans, and SUVs available in any market. In addition, we buy quality used vehicles to help keep our inventory levels healthy and competitive. As a result we are happy to purchase your current vehicle, even if you do not buy one of ours.
If you're searching for the best pre-owned vehicles in the Asheville region, look no further! Our goal at AutoStar Family Dealerships is to provide our clients with a positive, no-pressure, enjoyable buying experience. What makes the difference?  We function as the area's largest pre-owned site while still maintaining our "small-town" feel. This means that we stay active in all our communities, keep our vehicles priced to the market, and treat all of our clients with the utmost respect.  At AutoStar AutoStar Family Dealerships, we aim to make you more than a satisfied customer; we invite you to become a part of our AutoStar Family.
About CarGurus
Founded in 2006 by Langley Steinert, co-founder of TripAdvisor, CarGurus is a leading online automotive shopping destination focused on bringing transparency and efficiency to the car research and shopping experience. The site uses technology and market data analysis to help millions of automotive shoppers search for cars and quickly identify great deals from top-rated dealers in their local area. Today, the site serves more than 23 million unique monthly users and ranks #1 among car shopping websites in the U.S. by daily unique visitor traffic. CarGurus also has sites in the UK, Canada, and Germany.